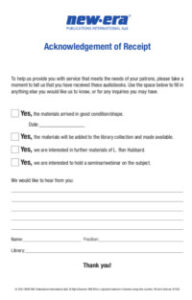 Acknowledgement of Receipt
Have you received books from us and want to acknowledge it online? Select your language below to fill out the acknowledgement card here. 
ACKNOWLEDGEMENT OF RECEIPT
Use this form to confirm the receipt of the materials we have sent you. 
Моля използвайте този формуляр, за да потвърдите, че сте получили материалите, които ви изпратихме.
POTVRZENÍ O PŘIJETÍ ZÁSILKY
Potěšilo by nás, kdybyste nám dali vědět ohledně převzetí knih a případně sdělili jakékoliv poznámky nebo komentáře.
Vyplňte prosím tento formulář: 
Estaremos encantados de saber que ha recibido los materiales, así como de cualquier comentario que le gustaría hacernos llegar.
Por favor rellene lo siguiente:
Accusé de réception des matériaux
Utilisez ce formulaire pour confirmer la réception des matériaux que nous vous avons envoyés.
Saremmo felici di sapere della Vostra ricezione dei materiali e di eventuali commenti che vorreste darci.
Si prega di compilare quanto segue:
Lūdzu, izmantojiet šo formu, lai apstiprinātu mūsu nosūtīto materiālu saņemšanu
Kérjük, használja ezt az űrlapot az általunk küldött anyagok átvételének visszaigazolására!
Користете го овој образец за да го потврдите приемот на материјалите кои ги испративте.
Vennligst bruk dette skjemaet til å bekrefte mottak av de materialene vi har sendt dere.
Chętnie poznamy Państwa opinie na temat otrzymanych materiałów jak i wszelkie ewentualne uwagi, które chcielibyście nam przekazać.

Prosimy o wypełnienie:
Utilize este formulário de receção dos materiais que vos enviámos.
Folosiți acest formular pentru a confirma primirea materialelor pe care vi le-am trimis.
 Vă rugăm să completați următoarele:
Použite tento formulár na potvrdenie o prevzatí materiálov, ktoré sme vám poslali. Prosím vyplňte nižšie:
Za potrditev prejema gradiv, ki smo vam jih poslali, uporabite ta obrazec.
Size gönderdiğimiz kitapların alındığını onaylamak için bu formu kullanın.
გამოიყენეთ ეს ფორმა ჩვენ მიერ გამოგზავნილი მასალების მიღების დასადასტურებლად.
Скористайтеся цією формою, щоб підтвердити отримання книг, які ми вам надіслали.
Χρησιμοποιήστε αυτό το έντυπο για να επιβεβαιώσετε την παραλαβή των υλικών που σας στείλαμε.
Παρακαλούμε, συμπληρώστε τα παρακάτω:
Olisimme iloisia kuullessamme materiaaliemme vastaanottamisesta ja kommenteista, joita haluaisitte antaa meille. 
Ole hyvä ja täytä alla:
Benutzen Sie dieses Formular, um den Empfang der Materialien zu bestätigen, die wir Ihnen zugesandt haben.
Mums būtų labai malonu sužinoti, kad gavote knygas, ir jūsų nuomonę apie gautą medžiagą.
Wij horen graag van u terug of u onze (luister) boeken in goede staat heeft ontvangen en u kunt hier ook een opmerking achterlaten.
Мы будем рады услышать о получении вами материалов и любых комментариях, которые вы хотели бы нам сообщить.
Пожалуйста, заполните ниже:
ACKNOWLEDGEMENT OF RECEIPT
Use this form to confirm the receipt of the materials we have sent you.